EASY BOOKING SYSTEM
CHECK OUR OPTIONS AND FEATURES
START FREE TRIAL NOW - 14 DAYS
LOOKING FOR BOOKING VIA MOBILE APPS?
CHECK OUR OPTIONS AND FEATURES
Bookings and appointments for Small and Medium Enterprise(SME) in Malaysia
Overview
ABOUT BOOKING SYSTEM
Doubleclick.my is a complete booking and reservation system that allow your customers to create secure online reservations.
It is cloud-based software so everyone can access it anytime from anywhere via desktops or mobile phones.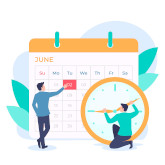 Features
OUR AMAZING SOFTWARE
WEB DESIGN
User-friendly and highly efficient process from booking to payment.
MOBILE APPS (COMING SOON)
Booking makes it easier.
ONLINE PAYMENT
Secure Payment Gateway Integration Ready.